Simple One-Hour Program (ages 3-7)

(10 minutes) Login, meet and greet

(30 minutes) Featured interactive show that highlights the birthday child or guest of honor

(20 minutes) Open social time for your guests to connect with each other
Includes a Zoom party link and my free Virtual Party Guide to ensure the best entertainment for everyone. Since the party is online, friends and family can join from anywhere in the world!

Enjoy affordable rates—whether you are celebrating a birthday, anniversary, or just need a COVID-19 safe treat and relief.

Interested? It's simple, click here to book a Virtual Party up to two months in advance. I dearly look forward to returning to in-person parties with you when it is safe again!

Have any Questions?
No worries, I've got answers. Just click a button below to request a phone call or simply an email. You'll receive my own Virtual Party Guide for success right away, and the booking process is super simple. Easy peasy!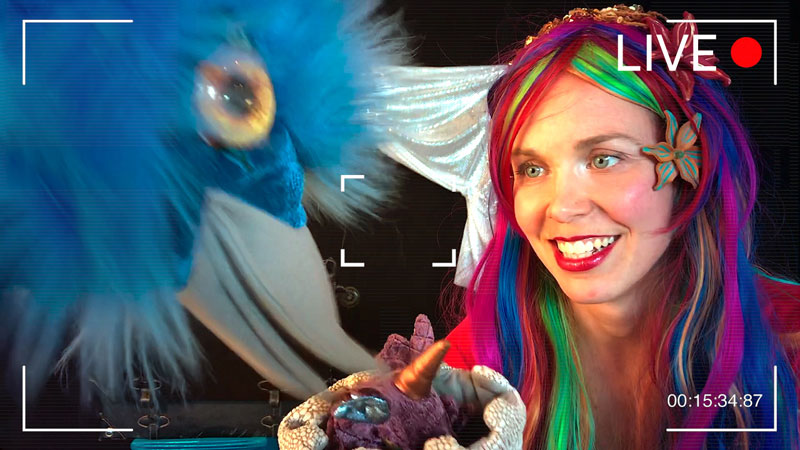 Great For Birthdays (or Any days)!
Home alone? Remote schooling? Time for something new—and then appears a Rainbow Unicorn, a Magician, an Ice Queen, or a Super Hero! I've created LIVE online interactive and engaging virtual parties so that we can all do our part to protect the health and safety of our friends and loved ones during the COVID-19 pandemic without sacrificing all the fun. You choose the time and up to 9 kids (devices) plus far-away family, then I provide the Zoom link and joyful entertainment. Your little ones will feel refreshed and inspired—and so will you. My parties are NOT your typical screen-time, this is a unique experience that my clients come back for!

Every Party Includes
Magic and Comedy (laughter!)

A personalized, short, funny interactive performance 

Engaging movement games



Dynamic visual tech magic designed especially for the screen


Question & answer social time with your little guest of honor
And might also include
A Floating Crystal Ball

Playful Cheeky Puppets

Mini Magic Lesson!

Real-life Scavenger Hunt

Participatory Adventure Storytelling 

Epic and Silly Sing-alongs

Birthday Song and cake-cutting
real life scavenger hunt

Make REAL magic for your little one, reach through the screen! No prep needed—this scavenger hunt cleverly uses things you already have! Kids will be excited to run around and get moving. This energetic show-and-tell scavenger hunt engages every child and brings your party to life!

Our virtual kiddos party with Drea was so fun and the kids were super engaged the whole time! She got us laughing and up and moving around from the first minute to the last. Her puppets are hilarious and her themed adventures are so creative and cute! Thanks Drea and The Dream Top! I would definitely do this again.

★★★★★